Love: it's in your hands.
Your relationship with others, significant others and ultimately – yourself.
7 – 8 PM | FREE EVENT | SOLD OUT
THU 27TH FEBRUARY
If only relationships were as simple as film, TV, books, or society would have us believe! Often, love can feel like a minefield – meeting new people, the perils and disappointments of dating, learning how to communicate with others, making time for real connection, break-ups, make ups and trying to keep desire alive. It leaves many of us confused, lonely, and kinda left feeling like we're just not cut out for it.

This one-hour workshop with Indigo practitioner, Kevin Vun, will help you explore what's important to you when it comes to your relationship with others, and ultimately yourself.
You will explore a range of different relationship-focused topics, including love languages, connection and communication, the body, the erotic, and the importance of self-love and self-knowledge. You will be invited to share and to interact, and be prepared to be human. Whether you're single or taken, gay, straight or bi, poly or monogamous, everyone and anyone who's curious to learn more about love, relationships and themselves is invited to join us for this event.
NB: There will be a massage component which you are invited to participate, however you are welcome to say no thank you and just observe. This activity will be supervised.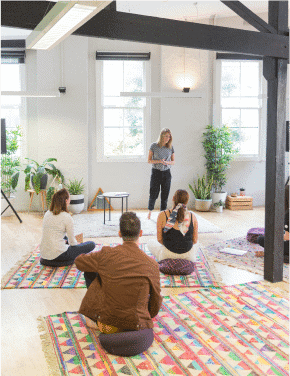 What you will learn:
How to identify what you want out of a partner/relationship/s

What your love languages are, how others communicate theirs, how you communicate yours

The basics of intimacy: how to start getting comfortable giving and receiving pleasure
This Workshop Is Perfect For
Anyone and everyone who wants to learn more about what's important for them in their relationships

Lovers, and how to start getting comfortable with giving and receiving pleasure.

People who are open to exploring their thoughts and feelings in a safe and comfortable space with like-minded individuals.
Facilitator
KEVIN VUN
Kevin has always been fascinated by humans and believes that, by learning how to understand ourselves and treat others with respect, compassion and kindness, then we can all live richer and more fulfilling lives. Seeking help can be quite daunting but Kevin feels it is the first step towards a life of purpose and well-being. Supporting people in the therapy room is an incredible honour and it he is grateful to be able to hold space for others, and guide them on their unique journey of growth, healing and discovery.