Ahh, memes. The digital windows to our souls. It's funny how memes can reveal so much about our inner dialogue and bring some things out into the light that previously existed only in the shadows.
We compiled a few of our favourite relationship memes here, accompanied by some tips (take them or leave them, tbh) if you're looking for these memes to be a little less personally relatable in your romantic future.
1. Own your shit and be accountable.
We all act and react irrationally from time to time. We get emotional, and that's human. But what also makes us human is our miraculous ability to reflect back on certain situations or conversations and deconstruct them from a calm and rational perspective. That more rational perspective may then reveal that in the situation or conversation, we were, in fact, being a bit of a dick.
It can feel awkward and at times uncomfortable to have to admit fault and apologise, but when it comes to maintaining a relationship that matters to you, it's also important. Notice in your body when you feel that resistance (perhaps due to pride or wanting to "save face") and ask what acting in alignment with that feeling means for your relationship. Usually nothing good.
2. Don't let anxiety rule your relationships.
Many of us are vulnerable (particularly in the earlier stages of relationships) to feeling anxious and uncertain about our partners feelings towards us. When they mean so much to us, we can work up a fear of being without them. If left unchecked, this fear can spiral into anxiety, where we are hyper-vigilant and constantly on the lookout for signs that out partner is now no longer all that into us. We do this in a misguided attempt to keep ourselves safe, however, what it actually does is rob us of enjoying the genuinely good times because we're always on the lookout for imminent rejection.
If this hits close to home, then working on some anxiety strategies would be really useful. So would one-on-one therapy, to begin to explore the deeper roots of such anxieties.
3. Get kinky.
Kink is not evidence of psychopathology. In fact, for many people, it is a safe and effective way to engage in erotic play. Also, we kind of love this wholesome meme.
4. Mind your baggage.
When it comes to relationships, we all have our fair share of baggage. But that doesn't mean we need to let it run the show. Our past relationships (which still includes "almost" and "kinda" relationships) as well as relationships with our parents, create a blueprint that informs all our future relationships. When this blueprint is less than stellar, and marked by incidences of past trauma, isolation or pain, we can bring a lot of unhealthy behaviour into our current relationships. The first step in working through this is recognising these unhealthy patterns as they arise.
Seeing a therapist and gaining a little more insight into your attachment style can be invaluable, and give you the opportunity to unload some of your baggage and help direct you towards more healthy, positive behaviours within your relationships.
5. Be honest about what you want.
It's your best chance of getting it.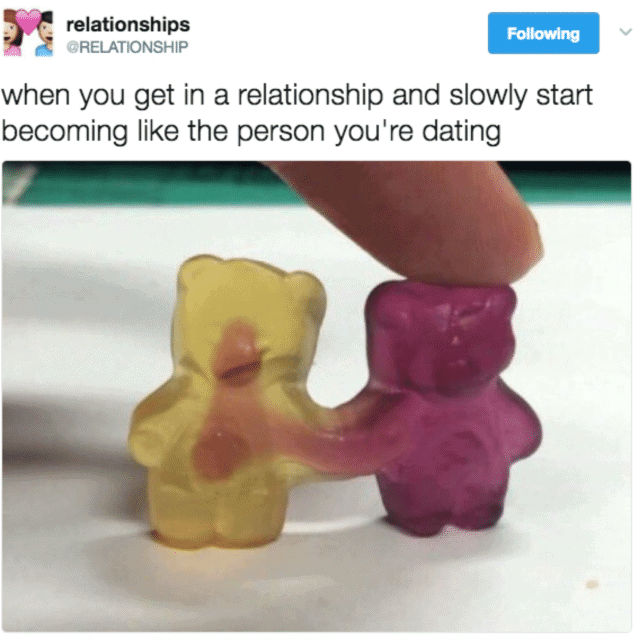 6. Don't give everything away.
While it's natural to become similar in some ways to a partner you spend a lot of time with, it's also important to maintain an identity and lifestyle independent of your partner. When your lives merge too fully, you run the risk of becoming a codependent relationship – where you rely completely on your partner for meeting all of your emotional and self-esteem needs. It's also a sure-fire way of killing the erotic component in any relationship. To avoid completely losing yourself in a relationship, be sure to maintain strong relationships outside of your couple bubble, set healthy boundaries, communicate assertively and maintain a healthy self-esteem.
7. A little more conversation
Ok, I know it's not what Elvis wanted but times have changed now. Our partners cannot read our minds (be scary if they could), so we need to be the one's to communicate calmly and assertively what's going on in our inner worlds. Silence often leaves to resentment and contempt. Communicating assertively can feel awkward at first if it's something you're not used to. But it gets easier with time, and it's an invaluable resource when it comes to developing honest, authentic and nourishing relationships.
You can learn more about how to level-up your communication skills by downloading the free worksheet on our Relationships Toolkit page.
8. Be the change you want to see.
It can be tough when you want your partner to communicate for their own good, but understand that it's not possible to force someone into communicating. The best way to support them is through being the change you want to see – communicate more, be kinder to yourself, open up vulnerable conversations. Let them know it's okay to not be perfect all the time, and that they're not obligated to uphold gender or cultural norms when they're with you. Give them space to be open, but don't force them to be. When they're ready to chat, they will.
Communication can be a minefield, and relationships can sometimes challenge you in ways that you could never have imagined. If you're at the stage where you may feel like yourself, or you and your partner, need a little bit of help, our team of therapists see clients online. Read more about relationship counselling here.
Frequently Asked Questions
Who is The Indigo Project?
We are a progressive online counselling practice, providing telehealth services in Australia. Our passionate and experienced local team includes psychologists, psychotherapists & counsellors, coaches and therapists that are trained to deliver online therapy to you in a safe and convenient way.
Whether you are looking for short or long term support through a challenging time, or looking to discover your potential, we want you to feel comfortable on every step of the journey.
Read more about Our Story 
Telehealth: About Therapy and Online Counselling
What can I expect from therapy? What is therapy like?
Every therapist is different and their therapeutic style and personalities are all unique. However, all of our Indigo practitioners will hold a compassionate and non-judgmental space for you, where you are free to be who you are. Your therapist is there to listen to you, guide you, and help you overcome life's challenges.

Generally, you'll spend the first session getting to know each other, talking about your history and what it is you'd like to work through. From your second session onwards, you'll get to go deeper, peeling back the layers and all the while learning practical strategies to help you transform and grow.

At Indigo we encourage our clients to have at least 10-20 sessions, because we believe that therapy is a long-term journey of commitment, growth and investment in yourself. After seeing your therapist for a while, you may continue to book occasional check-in sessions as you feel more confident doing life with the knowledge and tools you have gained.
Who is online therapy for?
Everyone is welcome to attend online counselling or therapy with one of our practitioners at The Indigo Project.
Online counselling or therapy via Zoom is an accessible, safe and convenient option for those who are unable to attend face-to-face appointments, or simply prefer to meet online. Whether it be a busy schedule due to work and family, health-related reasons or distance, online counselling can help you.
What issues are suited for online therapy?
Our team of trained clinical psychologists, psychologists, psychotherapists and counsellors attend to a range of common mental health issues such as depression, anxiety, stress, grief and loss, life transitions, relationship issues and more.

A number of practitioners also specialise in areas such as sexuality, gender and identity, addiction, sports and performance, personality disorders and therapy for children and adolescents.

Several therapists also provide services in marriage counselling and couples therapy.
Finding the best psychologist or counsellor for me - where do I start?
We highly encourage you to view our practitioners and use the filtering options to find a psychologist or counsellor who can help you with the issues you are seeking help for.

Meet our therapists and what they can help you with here.

If you need help, our Therapy Matchmakers team will be able to match you with a practitioner. Give us a call on (02) 9212 5469 or email us at hello@theindigoproject.com.au so we can support you on your journey.
What if I can't see the therapist I had in mind?
Our therapists typically have capacity to see several new clients each month. However these openings can get filled up fast from those who have been on a waitlist. If there is someone that you particularly want to see but is currently unavailable, we can place you on a waitlist until there is an opening.

If you prefer to attend an online counselling session sooner, our Therapy Matchmakers can help you find an alternative practitioner based on your needs and what you are looking to achieve in therapy.

Meeting a therapist for the first time can feel like a first date. If you don't connect with your therapist on your first or second session, we'll pair you with a new practitioner and your next session will be on the house* as part of our Perfect Match Promise.

*Terms and conditions apply.
Can I make an appointment for my child or dependent?
If you are the parent or legal guardian of a minor, you will need to make an appointment online or via the phone.

We have many psychologists, psychotherapists & counsellors who have experience dealing with children and adolescents in therapy. See who can help here.
Someone I know needs counselling. Can I book an appointment for them?
Those who require online counselling or therapy will have to make an appointment directly with The Indigo Project via our online booking form or on the phone. We do not accept bookings on behalf of an individual or couple from a third party unless as part of an insurance plan, support scheme or similar arrangement.
We want marriage or couples counselling. Can we see a couples counsellor together?
Do I need to do anything before my first session?
We recommend setting up for your online therapy session 5-10 minutes before it commences. Make sure your computer or phone microphone and video is working, and that you are comfortable and ready to sit through your session uninterrupted.

There's zero pressure to prepare anything for your first session but if you find it helpful, you can jot down some points about specific things you'd like to work on or discuss with your therapist.
Are my therapy sessions confidential?
Everything you discuss with your therapist here at Indigo is absolutely confidential, and will not be shared unless you or someone else is at risk of serious harm.
How do I pay for my online therapy session?
For first time clients, payment is made via debit or credit card at the time of booking. For returning clients, there are a number of payment methods available such as authorised direct debit or online via the payments link on your invoice.
Who to contact if you are in crisis
The Indigo Project is not a crisis service.

If you are in a crisis, if you are experiencing suicidal or homicidal thoughts, or somebody else is in danger, DO NOT use this service.

Call 000 or use these contacts for immediate crisis support 24 hours a day, 7 days a week:
Lifeline 13 11 14 - A crisis support and suicide prevention service for all Australians.
Mental Health Line 1800 011 511 - The Mental Health Line offers professional help and advice for everyone. Operates 24 hours a day, 7 days a week.
Beyond Blue 1300 22 4636 - Beyond Blue provide support to address issues related to depression, suicide, anxiety disorders and other related mental illnesses.
Suicide Call Back Service 1300 659 467 - A free service for people who are suicidal, caring for someone who is suicidal, bereaved by suicide or are health professionals supporting people affected by suicide.
Kids Helpline 1800 55 1800 - A counselling service specifically for young people aged between 5 and 25.
Parentline 1300 1300 52 - Parent Line is a free telephone counselling and support service for parents and carers with children aged 0 to 18 who live in NSW.
What else does The Indigo Project do?
Our courses, workshops and events are designed to transform the way you think, feel and live.
Not ready to commit to therapy? Indigo founder Mary Hoang has created Get Your Sh*t Together, a self-directed digital course for those who want to develop greater self-awareness, tackle stress and anxiety, and learn practical skills to help heal, grow and thrive in life.
Mary has also written a book Darkness is Golden: A Guide to Personal Transformation and Dealing with Life's Messiness that combines her experience in the therapy room with unique audio experiences framed by her research in music psychology.
Available for free download are a number of toolkits to help you combat your depression, deal with your anxiety or transform your relationships.
Although an online counselling practice, The Indigo Project believes in the power of community, and we often host events throughout the year. Keep an eye out for events such as Listen Up, a contemporary digital sound bath some describe as a "soundtracked therapy session".
We are also available for corporate events, workshops and related projects. Please contact us at hello@theindigoproject.com.au if you'd like to know more.