How To Deal With Anxiety
7 – 9 PM | *SOLD OUT*
THU 18TH JULY
Breathe. Anxiety is not a life sentence.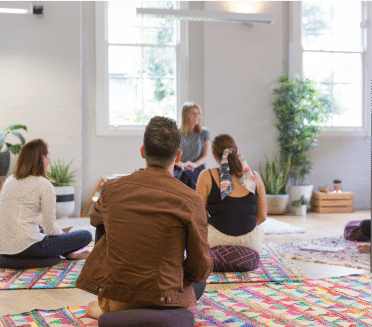 In the moment, anxiety feels like a roadblock. You literally can't see past that fear or thought to the point where you quickly arrive at worst-case scenarios, often manifesting in the physical form; panic attacks, a tight chest, breathlessness… Sometimes without an obvious trigger. It can seriously wear you out.
But there's plenty you can do to help. In this dynamic workshop, we'll introduce you to proven strategies for managing your anxiety and explore the effects it's having on your body, mind, behaviour and relationships. With that awareness, you can start to transform your relationship with anxiety, and your life.
Led by Indigo psychologist Rashida Dungarwalla, you'll begin to understand how anxiety is holding you back, discover practical tips for managing your mind and learn how to train that negative little voice in your head to become more self-compassionate.
What You Will Learn
How to engage with your anxiety differently
How our minds are wired to be anxious and the role that evolution plays
How your body naturally responds when anxious
How to use your breath to manage anxiety
Relaxation techniques to help manage anxiety
How to use self compassion in moments of pain
Insight into your anxiety and how it affects your thoughts and behaviour
An awareness of how anxiety affects your relationship with yourself and others
Facilitator
RASHIDA DUNGARWALLA
Psychologist
Rashida is a psychologist here at The Indigo Project. Her youth was spent living all over the world, in particular England and Kenya, exposing her to various cultures and ways of living, and developing her understanding of how different cultures create connections and experience emotions.
Rashida was drawn to the field of psychology at a young age, curious about people's journeys as she tried to make sense of her very own psyche.  Having gone through her own mental health journey, she believes that working on your mind allows you to reflect, develop and grow.
The Important Stuff
*SOLD OUT*
| | |
| --- | --- |
| DATE: | Thu 18th July |
| TIME: |  7 – 9pm |
| LOCATION: | 33 Foster Street, Surry Hills |
| COST: | $40 |
Payment plans available. To set up your plan:
1) Click "BOOK YOUR SPOT"
2) Click "PROCEED TO CHECKOUT"
3) Create an easy payment plan with Partial.ly
Tickets for workshops are non-refundable and non-transferable. Please see our T&Cs for more info.
Tickets are no longer available.