Mary Hoang | Founder and Head Psychologist of the Indigo Project
"We believe
you are enough
. You have the tools to lead a life that's brimming with
meaning, purpose and happiness
. But sometimes, you just need a little help getting there"
The indigo project is a boutique psychology and Mindfulness studio in Surry Hills.
We offer access to:
Professional and down-to-earth psychologists and holistic practitioners
Innovative workshops, courses and events
Creative and approachable yoga and meditation classes
Transformative local and Bali retreats.
Unlike physical exercise, the health of our minds is often ignored, yet plays such an important role in the cultivation of a meaningful life. Scientific research tells us that we have the tools to reduce stress and anxiety, increase happiness and creativity, and improve our interpersonal relationships at the tips of our fingers!
At The indigo project, we utilise the latest scientific knowledge to create offerings that improve the overactive modern mind, infused with a contemporary perspective so that our teachings are relatable and real.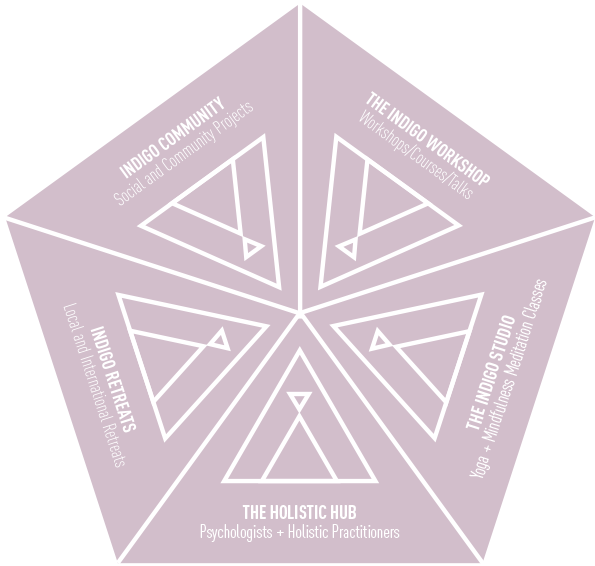 THE HOLISTIC HUB
One-on-one Therapy
Indigo's psychologists specialise in working with mood and anxiety disorders, stress and relationships using a framework of Mindfulness and Positive Psychology. The indigo project also specialises in working with people in creative industries or those who are looking to develop their creativity.
Holistic Practitioners
Indigo also has a range of holistic practitioners who offer professional and caring support for health and lifestyle issues.
Student Clinic
The company is committed to providing mental health care that is accessible on both a financial and human level, and to combating the stigma associated with seeking mental health care. Our Student Clinic is designed to accommodate all members of the community with free or by donation consultations and to provide hours to emerging practitioners.
INDIGO STUDIO
Yoga and Meditation Classes
The indigo project provides daily yoga and meditation classes infused with relevant psychological and Mindfulness-based practices. Backed by neuroscience, Indigo's offerings bring a relatable perspective to these fields often deemed 'clinical' or 'hippie'. Indigo aims to demystify yoga and meditation and cater to those who are new to these powerful practices for mental and physical health.
The indigo project's meditation classes provide a modern and fresh perspective to the practice of developing awareness while the yoga classes are designed to help you chill and relax, focusing on Yin, Restorative and Gentle Flow.
Nap Time
Nap time is a unique offering at The indigo project. It is a class that allows the busy, tired (and perhaps hungover) worker a chance to enjoy a guided relaxation meditation and opportunity to sneak in some cheeky shut-eye in the middle of the day - with the result of boosting productivity and refreshing the mind.
THE INDIGO WORKSHOP
The indigo project provides quality courses, workshops and talks to benefit the mental health and wellbeing of the community from corporates to creatives, all facilitated by professional practitioners.
INDIGO RETREATS
The indigo project holds weekend yoga and meditation retreats in Australia and longer retreats in Bali for those looking for a transformation in an exotic location. Facilitated by holistic psychologists, Mindfulness practitioners and yoga professionals our retreats are known for cultivating a perfect environment for healing, change and balance.
INDIGO COMMUNITY
Indigo is committed to giving back to the community and is associated with various organisations locally and internationally to assist and support disadvantaged communities.
Eyes and Hearts Project
The indigo project organises and runs a number of community projects in Bali while on our annual retreats.
The Eye Project offers free eye-testing in disadvantaged communities in Bali for people of all ages and supplies custom-made prescription glasses and fittings for those that require it.
The Heart Projects donates books, drawing equipment and stationery to disadvantaged young people in the villages of Bali, and makes donations to Balinese community organisations.
Provisions for financially disadvantaged
All of The indigo project's quality services and programs are accessible to the community regardless of financial circumstances by offering bulk-billing, pop-up free classes such as Mindfulness 101 and by donation yoga and meditation classes. The indigo project strongly believes that everyone should have access to the tools they need to lead a balanced and happy life.
THE INDIGO PROJECT
A : 33 Foster Street, Surry Hills, NSW 2010, Australia
P : +612 9212 5469
E : hello@theindigoproject.com.au
Opening hours : Monday - Saturday 10.00 - 20.00