Mary Hoang | Founder and Head Psychologist of the Indigo Project
"We believe
you are enough
. You have the tools to lead a life that's brimming with
meaning, purpose and happiness
. But sometimes, you just need a little help getting there"
The indigo project is a boutique psychology and Mindfulness studio in Surry Hills.
We offer access to:
Professional and down-to-earth psychologists and holistic practitioners
Innovative workshops, courses and events
Creative and approachable yoga and meditation classes
Transformative local and Bali retreats.
Unlike physical exercise, the health of our minds is often ignored, yet plays such an important role in the cultivation of a meaningful life. Scientific research tells us that we have the tools to reduce stress and anxiety, increase happiness and creativity, and improve our interpersonal relationships at the tips of our fingers!
At The indigo project, we utilise the latest scientific knowledge to create offerings that improve the overactive modern mind, infused with a contemporary perspective so that our teachings are relatable and real.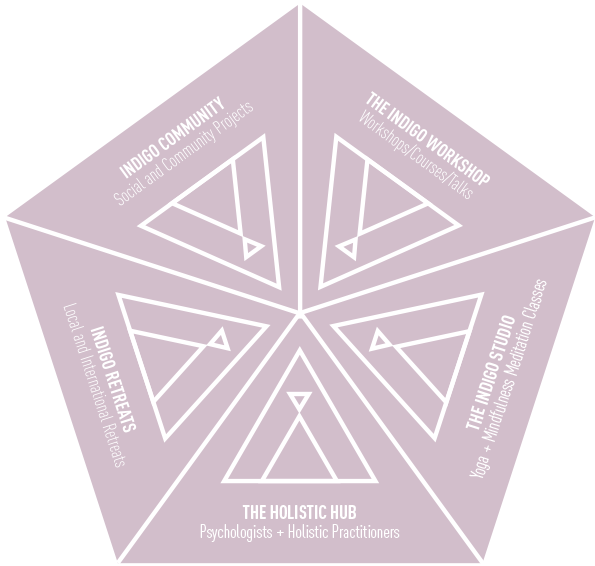 THE HOLISTIC HUB
One-on-one Therapy
Indigo's psychologists specialise in working with mood and anxiety disorders, stress and relationships using a framework of Mindfulness and Positive Psychology. The indigo project also specialises in working with people in creative industries or those who are looking to develop their creativity.
Holistic Practitioners
Indigo also has a range of holistic practitioners who offer professional and caring support for health and lifestyle issues.
Student Clinic
The company is committed to providing mental health care that is accessible on both a financial and human level, and to combating the stigma associated with seeking mental health care. Our Student Clinic is designed to accommodate all members of the community with free or by donation consultations and to provide hours to emerging practitioners.
INDIGO STUDIO
Yoga and Meditation Classes
The indigo project provides daily yoga and meditation classes infused with relevant psychological and Mindfulness-based practices. Backed by neuroscience, Indigo's offerings bring a relatable perspective to these fields often deemed 'clinical' or 'hippie'. Indigo aims to demystify yoga and meditation and cater to those who are new to these powerful practices for mental and physical health.
The indigo project's meditation classes provide a modern and fresh perspective to the practice of developing awareness while the yoga classes are designed to help you chill and relax, focusing on Yin, Restorative and Gentle Flow.
Nap Time
Nap time is a unique offering at The indigo project. It is a class that allows the busy, tired (and perhaps hungover) worker a chance to enjoy a guided relaxation meditation and opportunity to sneak in some cheeky shut-eye in the middle of the day - with the result of boosting productivity and refreshing the mind.
THE INDIGO WORKSHOP
The indigo project provides quality courses, workshops and talks to benefit the mental health and wellbeing of the community from corporates to creatives, all facilitated by professional practitioners.
INDIGO RETREATS
The indigo project holds weekend yoga and meditation retreats in Australia and longer retreats in Bali for those looking for a transformation in an exotic location. Facilitated by holistic psychologists, Mindfulness practitioners and yoga professionals our retreats are known for cultivating a perfect environment for healing, change and balance.
INDIGO COMMUNITY
Indigo is committed to giving back to the community and is associated with various organisations locally and internationally to assist and support disadvantaged communities.
Eyes and Hearts Project
The indigo project organises and runs a number of community projects in Bali while on our annual retreats.
The Eye Project offers free eye-testing in disadvantaged communities in Bali for people of all ages and supplies custom-made prescription glasses and fittings for those that require it.
The Heart Projects donates books, drawing equipment and stationery to disadvantaged young people in the villages of Bali, and makes donations to Balinese community organisations.
Provisions for financially disadvantaged
All of The indigo project's quality services and programs are accessible to the community regardless of financial circumstances by offering bulk-billing, pop-up free classes such as Mindfulness 101 and by donation yoga and meditation classes. The indigo project strongly believes that everyone should have access to the tools they need to lead a balanced and happy life.
The indigo project is a collective of kick-ass psychologists, health professionals, creatives and teachers bringing you a plethora of science-backed offerings to help you create balance in mind and body.


Monika Milanovic
What do you do at The indigo project?
I'm currently studying my fourth year of Psychology and working on the social media and administrative duties at The Indigo Project.
What do you strive for?
I strive to be the best person I can possibly be and emanating that positivity and hope into the world surrounding me. I believe that every day is a new opportunity to exude positive vibes and experience bliss in every task or experience that life throws at me.
What's your idea of balance?
The idea of balance is the combination of calm-chaos. Optimising my time effectively to manage work, university and life is a constant battle. Balance to me comes from reaffirming the notion that focusing too much on one aspect of life leads to overthinking and worry. Giving myself time to socialise with family and friends as well as finding time independently to pursuit my own interests provides balance in my life.
What is your guilty pleasure?
Binge watching TV shows is definitely a guilty pleasure I indulge in much more often than I should.
How do you play?
It involves surrounding myself with the greatest people I know, copious amounts of pizza and wine and revelling in the experience of karaoke.
How do you reenergise?
Walks with Mr Bowie, ocean swims, and hanging out in nature.
Chloe Harding
What do you do at The indigo project? I look after all our marketing, events, partners, collaborations, PR activity.....and the office dog, Mr Bowie.
What do you strive for?
A life filled with meaningful connections with good people. Adventure, purpose and gratitude.
What's your idea of balance?
For me, balance is making time for the things & people I love, the things that keep me healthy, calm and grounded, and getting shit done.
What is your guilty pleasure?
Belinda Carlisle, wine and cheese, lots of cheese.
How do you play?
Dancing like nobody's watching and singing like nobody's listening.... only they often are and they don't always like it.
How do you reenergise?
Walks with Mr Bowie, ocean swims, and hanging out in nature.
Crystal Pearce
What do you do at The indigo project? I am a provisional psychologist at The indigo project; I see clients one-on-one, hold meditation classes, manage administrative tasks and social media platforms.
What do you strive for?
I strive to be my best self (whatever that is at the time in my life) cause ya know, it's always changing. I work towards being present, kind, and not too serious about life – always trying to avoid that boring adult life.
What's your idea of balance?
Balance for me is not quite balance – it is having more of the fun relaxing, leisurely stuff. It involves a good dosage of down time, and on the other side of the see-saw is having a sense of achievement and working towards a career, passion or hobby.
What is your guilty pleasure?
Cheese. I mean the real cheese, those glad-wrapped wheels you can only get from hidden away deli's. I love cheese so much that when I eat too much (and I'm talking a whole wheel here), my tummy hurts, yet I still eat it!
How do you play?
I love to dance, be outside in the bush or at the beach (just being in nature really), and being with people that energise me with good conversation flying left, right and centre.
How do you reenergise?
Spending time outside, being with family, meditating, and lying in a hammock reading a good book.
Danielle Hanrahan
What do you do at The indigo project? Along with getting together content for our social media platforms, I am organising a lot of super-exciting events and workshops! These evenings will feature a little bit of music, creativity, new ideas and knowledge, and a whole lotta fun!
What do you strive for?
Meaning – in everything I do. I enjoy striving for a purposeful life where my commitments are a reflection of what I find most important and valuable, and what I am ultimately willing to put time and effort into developing.
What's your idea of balance?
My idea of balance is feeling like there is no one thing taking over my life, unless it is a conscious decision to focus on one commitment. Into the mix, I try to ensure I have enough time to exercise, relax with a good book, and see my friends and family. I know I am starting to take on too much when I haven't been to the gym in a while.
What is your guilty pleasure?
Donuts!
How do you play?
With physical activity! There is nothing better for my overall wellbeing – mind and body – than getting outside and doing something fun and active, like rock climbing, SUPing, round of golf, a big hike or a nice swim in the ocean.
How do you reenergise?
By getting away from the chaos and noise of the city to a tranquil spot in nature –camping ground, or the mountains, or a serene coastal area – for a reboot in the open air.
Tasha Pain
What do you do at The indigo project? I'm the receptionist/administrative assistant.
What do you strive for?
What I strive for most is to achieve happiness and build positive relationships with everyone I meet. I believe in loyalty and I'm really passionate about doing what I feel is right, although there have been times when I have doubted what I am doing – I guess that's normal, right? Apart from my aforementioned goals, I also strive for a strong stance in my personal beliefs, and sticking to them.
What's your idea of balance?
My idea of balance means living by the "work hard, play hard" mantra. If you work hard, then you deserve to play hard as a reward for your endeavours, so I sometimes feel like I need to earn my relaxing time!
What is your guilty pleasure?
My guilty pleasure would have to be Nutella…..spread really thickly on toast (stuck out tongue)
How do you play?
I like to draw and explore my creative side. I also have a background in graphic design so I like to stretch my creative muscles and sketch silly, random things on my note pad all the time.
How do you reenergise?
An intense session on the treadmill! With a cool down afterwards of course.
Emma Merce
r
Marketing and PR intern
What do you do at The indigo project? I am the indigo project's marketing and PR intern. I help out with social media and all marketing and PR planning and activities.
What do you strive for?
I strive to be happy, healthy, active and mindful everyday and to not be so hard on myself on the days when this might be more difficult to achieve.
What's your idea of balance?
Being able to make time for the things that are important to you and knowing when you need to pull back in certain areas to make more time for yourself or other priorities. For me that is finding the best way to fit in work, study, yoga, time with my boyfriend, friends and family and time for myself to do absolutely nothing.
What is your guilty pleasure?
My most recent guilty pleasure would have to be binge watching episodes of Buffy the Vampire Slayer with my new housemate.
How do you play?
With wine, cheese and good company!
How do you reenergise?
Yoga and meditation, enjoying a cup of tea and some peace and quiet or spending time by the beach or outdoors whenever I can.
Mary Hoan
g
Founder and head psychologist
What do you do at The indigo project? I try and run this crazy circus! From seeing my amazing clients and working closely with creatives to develop their potential, everyday is different as we do so many amazing things. Some days I develop and facilitate workshops and courses on things to help people get their shit together, other days I'm running around madly having inspiring meetings with project collaborators. Occasionally you'll find me in the kitchen cooking up a storm for the staff, a job I take very seriously. All in all, I love creating and holding the vision for The indigo project, it's a very rewarding role.
What do you strive for?
I strive to purpose and meaning in everything that I do – I'm really strict on how I spend my time and who I spend it with. Positive people around me is a must, I don't have time for bullshit. I also really thrive on the ability to express myself creatively in the projects that I create and take on, and I love the energy that is created in the right collaborations. Ultimately I strive for creating a place in Sydney in which we can all hang out, learn about ourselves, enjoy good food and company and meet people of the same vibe.
What's your idea of balance?
I work pretty hard, so I balance that out with a solid amount of time making shapes on the dance floor, it's the perfect release for me. Balance is being able to cook beautiful meals at home and share it with friends and not eat out on a regular basis. Top this off with regular escapes to the Blue Mountains to stoke fires in the outdoors and I'm a happy girl.
What is your guilty pleasure?
Spending way too much money getting my hair done! But they serve me champagne to dull some of the pain on my wallet so it's all good.
How do you play?
I love dressing up in various crazy costumes and going to music festivals, being the last one to go back to the tent, and sunbaking during the day.
How do you reenergise?
Pottering around farmers markets chatting to people who are passionate about what they do, floating belly-up in the sea staring into clear blue skies, and stealing cuddles from loved ones.
Kirrilee Phillip
s
Designer
What do you do at The indigo project? I'm Indigo's in-house creative. My work is pretty varied - designing all our online and printed collateral, designing and installing our market stalls, creative directing the social media team, event photography, resident DJ and sometimes I'm known as the psychologist's psychologist.
What do you strive for?
Knowing that I'm making a positive impact in the world, the sense of accomplishment and satisfaction that follows a challenging and successful creative project, that settled and content feeling inside when you know you are where you should be.
What's your idea of balance?
Oh man. My mind is like a pendulum that swings between a state of being pretty damn hard on myself and utterly unrestrained and carefree... So it's literally about striking the balance between those two states of mind and knowing when to best utilize either side.
What is your guilty pleasure?
Word for word, drunken singalongs to NOFX with my boyfriend.
How do you play?
By getting out from behind the mac and overloading the senses.. Loud rock gigs, wine-times and hilarious chats with friends, practicing photography and adventures to beautiful landscapes with my boyfriend.
How do you reenergise?
Having great chats with my bestie, devouring new art/music/design, and swims in the ocean.
Rhianna Mot
t
Psychologist
What do you do at The indigo project? I am a registered psychologist who prides herself in keeping it real and helping Indigo-ees tap into their inner awesomeness so they can create the life they want. On a side note, it could be said that I am Indigo's unofficial resident astrologer.
What do you strive for?
Deep and meaningful connections.
What's your idea of balance?
Being able to incorporate into your schedule the things that make you smile without one or more having to suffer or be placed in the "one day" or "I'll get to that later" basket.
What is your guilty pleasure?
Just one?! Red wine, cheese, chocolate, chips and dip and when I'm feeling fancy...a big gin and tonic.
How do you play?
Time on the dance floor with my mates is my ultimate form of play!
How do you reenergise?
I'm one of those souls who needs plenty of alone time to recharge. Being in nature makes my heart sing. And a good book and a gigantic cup of tea (or glass of red) somewhere calm and quiet always works a treat.
Kenneth V
i
Prov. Psychologist
What do you do at The indigo project? I'm like the handyman here. A bit of therapy, a bit of finance, a bit of IT.
What do you strive for?
Balance in my life, how to help others balance.
What's your idea of balance?
To able to go through rough patches and still remain calm. Behaviourally, that's eating, sleeping, exercising, working and socialising at a good pace.
What is your guilty pleasure?
Pizza.
How do you play?
Getting older, I prefer to just chill and bang on the PS4.
How do you reenergise?
Exercise and travelling.
Martha Tsakalo
s
Prov. Psychologist
What do you do at The indigo project? I am a psychology intern. At the moment, I handle administration, bookings and Instagram which is a lot of fun! I'm looking forward to working as a provisional psychologist alongside the amazing Indigo Project team later this year.
What do you strive for?
I strive to inspire others and to help them realise that greatness already exists within themselves.
What's your idea of balance?
Balance is a state of giving and receiving in equal amounts. Where you're supported and supporting others. Personally, I am most balanced when yin and yang elements are present in my lifestyle; when I find time to be active AND rest regularly, pursue my goals with drive and enjoy well deserved down-time.
What is your guilty pleasure?
If you've met me, you will already know the answer to this. Gelato Messina is my ultimate guilty pleasure. If something from the rotating menu doesn't catch my eye, you will find me enjoying a scoop of Giandia Bianca – white chocolate hazelnut…now go try it for yourselves.
How do you play?
Playing with my boundaries and trying new things… be it aerial yoga, kickboxing, a new restaurant that would otherwise be outside my comfort zone or adventuring out of town on the weekends.
How do you reenergise?
Yin yoga and mindfulness meditations. There's nothing more energising than easing all the outer body tension and finding deep stillness and focus. If I'm really pressed for time and on to go, I'll take a few deep breaths and tune into a podcast to focus my mind.
Michell Dal Ci
n
Prov. Psychologist
What do you do at The indigo project? I'm currently an intern and have recently taken over our Facebook platform as well as other administrative tasks.
What do you strive for?
To live a life that makes me feel alive; a life in which I can enjoy doing the things I love, develop quality relationships with like minded friends and experience the world through travel.
What's your idea of balance?
My idea of balance is being able to get through a week of work while still having time to 1) hang out with friends and 2) have time to myself to wind down and do the things I love i.e. draw, listen to music, watch documentaries, read etc.
What is your guilty pleasure?
Eating Nutella straight out of the jar.
How do you play?
I go out with friends, drink and dance until the sun comes up.
How do you reenergise?
I reenergise by having a quality night out with friends consisting of wine, music, laughter and lots of dancing.
Alexandra McCarth
y
Provisional Psychologist
What do you do at The indigo project? I am a Provisional Psychologist who also works on the social media aspect of the Indigo Project.
What do you strive for?
To live a life that I don't need a vacation from; Purchasing an around the world ticket and funding the trip through my creative aspirations; Engage in spontaneous and meaningful conversations with anyone and everyone; Making you realise the amazing person that you are, because you are!
What's your idea of balance?
Spending my life encompassing all sides of my personality – a little bit serious, a little bit quirky, a little bit fun.
What is your guilty pleasure?
Taylor Swift and Lindt Peppermint Dark Chocolate
How do you play?
Late nights out with friends on the dance floor.
How do you reenergise?
Travelling, exploring, nature, drawing, bike riding and being with myself.
THE INDIGO PROJECT
A : 33 Foster Street, Surry Hills, NSW 2010, Australia
P : +612 9212 5469
E : info (at) theindigoproject.com.au
Opening hours : Monday - Saturday 7.00 - 21.00